Brainstorm Electronics
NEWS & ARTICLES
Brainstorm Electronics Brings AVB Sync to DXD
DXD firmware update adds synchronization of AVB over IP Products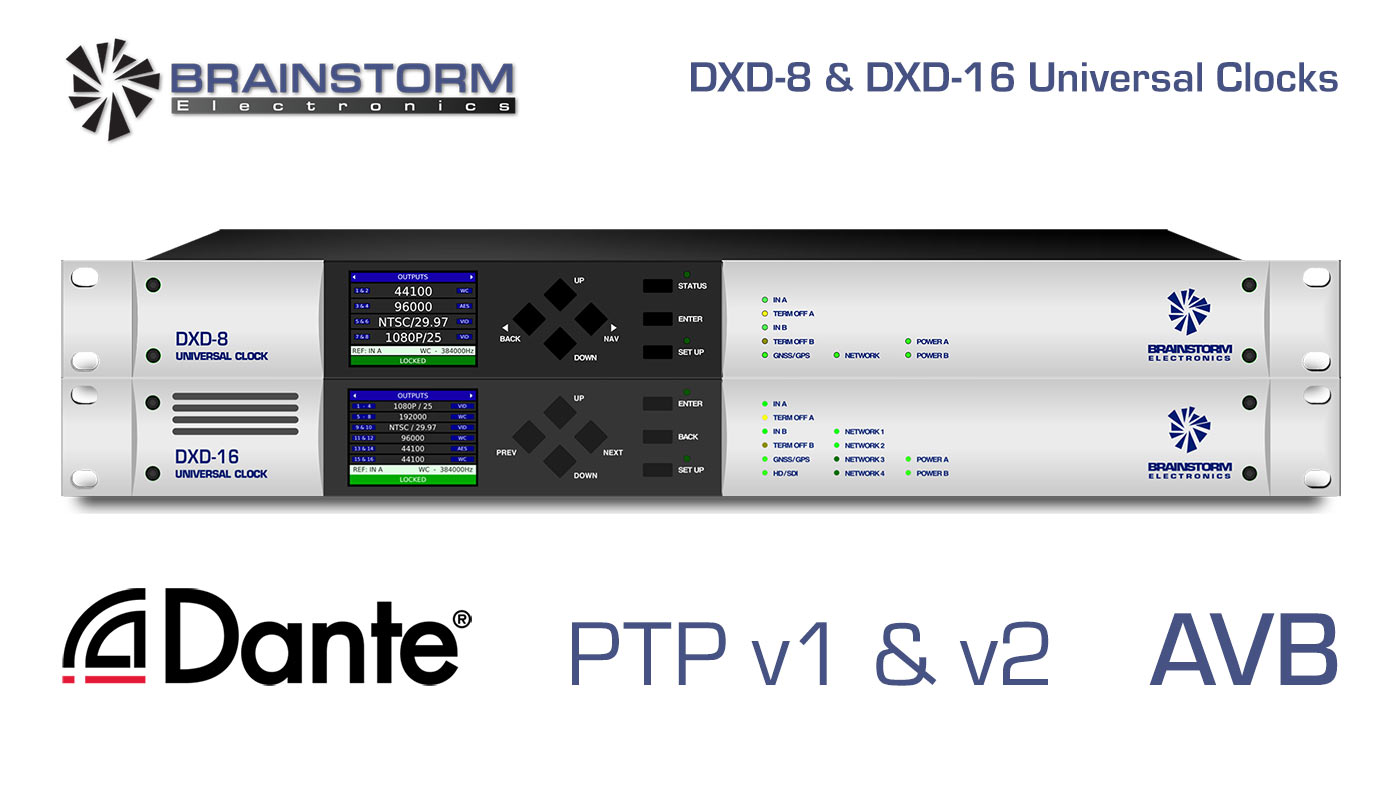 Brainstorm DXD-8 and DXD-16 Universal Clocks now with updated firmware for AVB sync. – click all images for hi res press versions
Los Angeles Oct 2021 (V 2.15 was updated Jan 2022 to V 2.16 to include a bug fix) – Brainstorm Electronics announces the release of firmware version 2.15 for its DXD Universal Clocks, which adds AVB support. This follows a recent release which added PTPv1 for Dante Synchronization, in addition to PTPv2. With these 2 releases, the DXD can now provide complete PTP sync for media over IP.
AVB (Audio Video Bridging) is an open IEEE standard. The MILAN protocol has been adopted by manufacturers such as AudioScience, Avid, Biamp, Meyer Sound, L-Acoustics, d&B audiotechnik, Adamson and Luminex, AVB has gained interoperability and has found increased acceptance in live sound installations. 
With the AVB firmware, the DXD is a reliable gPTP Grandmaster. The multiple ports of the DXD-16 can act as a clocking bridge between AVB, AES67 and Dante, while keeping legacy equipment in perfect sync.
Firmware 2.15 supports both versions of AVB, IEEE 802.1AS-2011 and IEEE 802.1AS-2020, as well as IEEE 1588-2019 (PTP 2.1). This release adds several new status pages, providing valuable information for set up or troubleshooting.
Brainstorm Electronics is also announcing the release of new Dante tutorials for the DXD-16 and DXD-8 Universal Clocks, available on the Brainstorm web site. Included are Quick Start and Set Up guides describing in detail the different parameters and settings for easy Dante sync. The Quick Start guide describes how to configure the DXD as a Dante Primary Leader Clock (PTP Grandmaster). The Set Up guide outlines simple troubleshooting steps and describes how to set the DXD as a Dante Follower (PTP Slave) and how to sync non-Dante devices with a Dante system.