Brainstorm Electronics
NEWS & ARTICLES
Brainstorm Electronics DXD Universal Clocks Updated with Free Remote Web Control
Free V3 Firmware adds control and monitor from a standard web browser
Brainstorm DXD-8 & DXD-16 Universal Clocks now with Remote Control from Embedded Web Pages (Home page with main menu shown)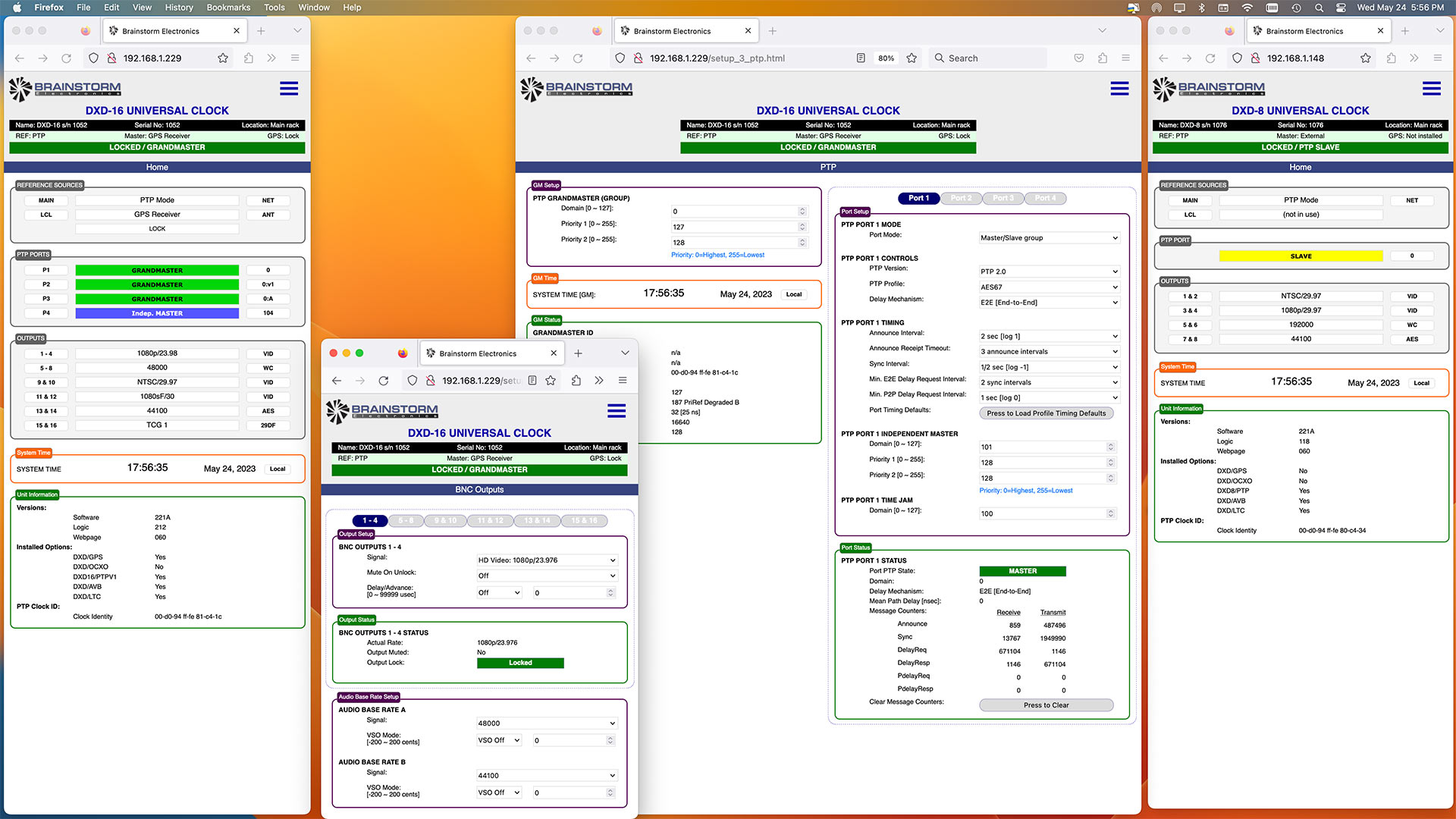 This screen shows multiple windows with a DXD-16's Home, BNC Outputs, & PTP pages, as well as a DXD-8's Home Page.
Los Angeles, June 2023 – The popular DXD line of Universal Clocks that recently included updates adding PTPv1 for Dante Synchronization and AVB in addition to PTPv2 now includes remote control and monitoring via an embedded web server. With this release, the DXD can provide complete PTP sync for media over IP with full remote monitoring and control.
Firmware 3.00 (free download) brings Remote Control functionality to the DXD Universal Clocks via embedded web pages. This new GUI allows an operator to control and monitor the DXD from a standard web browser. The Remote Control is accessed by simply pointing a browser to the to the IP address of your DXD and the Home page will appear.
Features include:
Home page provides an overview of the main DXD settings
Header at the top of each page displays critical information such as the lock status
9 Set Up pages give access to all the parameters for editing
Multiple pages can be opened simultaneously to view different groups of settings
3 modes are available: Full Access / Status Only / Status + Preset Recall
The new browser window makes it fast and easy to keep track of and easily change, the DXD parameters. To avoid accidental changes and limit the remote access, a 'Status Only' mode was added as well as a 'Status + Preset Recall' mode. Several windows can be opened at the same time in the browser to monitor multiple DXD units and status pages.
Learn more about the new Brainstorm Electronics DXD Universal Clocks Remote Control Features:
brainstormtime.com/products/spg/dxd-remote-control